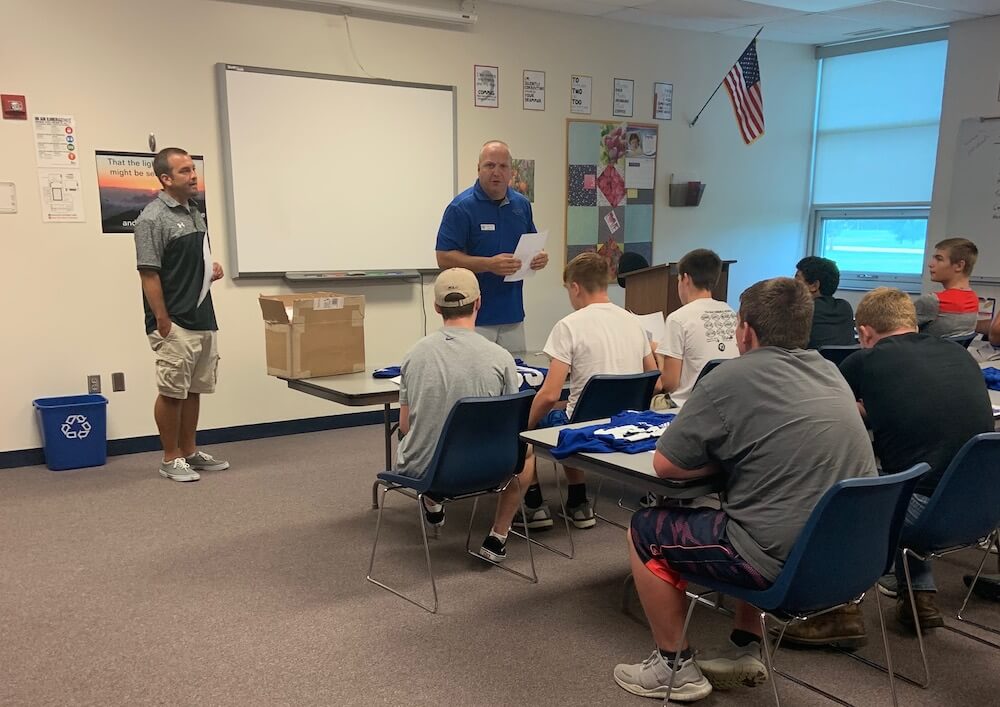 Team sports are where memories that last a lifetime are made. Bonding in the dugout, traveling on the bus together, eating together as a team, etc. These small things mold teammates into becoming lifelong friends. Unfortunately, sometimes, these bonding moments cannot happen due to a lack of funding for the team. No team should have to cut corners and miss out on experiences that will last a lifetime. Luckily, Fundraising University is here to help.
If your team has financial burdens such as tournament fees, requiring new uniforms, or needing new equipment; Fundraising U can be the alley to your team's oop. At Fundraising U, we take fundraising seriously. We want the coaches and the team to be competitive and earn prizes while making money for their new athletic environment. The players earn their new equipment and get to form some of those long-lasting memories throughout the process. Fundraising University wants teams to be able to accomplish their goals on and off the field. Allow us to guide you through the sometimes stressful slope of planning a fundraiser for your team's season.
Fundraising U Coach: Making Team Sports Fundraising Easy
Fundraising University is full of former players, coaches, and parents. Everyone can remember a time where financial burdens interrupted a season or held a team back from reaching their full potential. Here at Fundraising University, we hate to see things like this happen, especially the athletes. We know how to fundraise so that these issues can be erased from a team's experiences. Fundraising U focuses on fundraising so that players and coaches can focus on the more important aspect of sports.
Each team that works with Fundraising University is assigned a specific Fundraising U coach who will come and assist your team throughout the fundraising process. We ensure that our first step when working with a team is to meet with the coach to understand the needs of a team so we can put together a game plan for them that will help them reach their fundraising goals for their high school sports team. The best part about this specific step is that it takes no more than 20-30 minutes. We find out what the coach and team need and layout a blueprint for helping the team reach their fundraising goals.
Our coaches at Fundraising U know what they are doing. As former athletes and coaches themselves they understand the struggles and pitfalls of fundraising and will help guide you through the necessary steps to set up a fundraiser that will financially benefit your specific high school sports team. We know how to get your team fired up and ready to sell. We break them off into separate teams to compete against each other. The teams that sell the most or hit their goals first, earn prizes and incentives.
Our Goals Are Your Goals
At Fundraising University, when we work with a team, we become a part of the team. We may not share the same field or court, but we share the same goal. We want a team to be able to play the sport they love with no financial burdens. Athletes and coaches have earned the right to play and coach. There is no need for them to worry about how they are getting to the game or what uniforms they are going to wear.
We understand what coaches and athletes are going through when it comes to funding for team sports. We were once in their shoes and remember the highs and lows of being an athlete or coach. It is important to us that the team is stress-free, financially. Meals, buses, uniforms, and anything else a team needs should be taken care of. In a perfect world, Fundraising University would not exist. All teams would have what they need. Unfortunately, the world is imperfect and that is why we are here to help your team succeed.
We were founded to relieve the pressure of fundraising off of the shoulders of coaches. We want to make sure that our commitment to a team is what the coach has envisioned. Our main goal in all of this is to make sure that players have all of the necessities to play the sport they love. Fundraising is no easy thing to accomplish on your own. That is why Fundraising University is here to help guide and encourage coaches and players to accomplish their financial goals for the respective sport's season.
How to Help Your High School Team Succeed
Fundraising University has coaches all across the country who are eager to help any team out. If your team needs help funding their sport's season, look no further than the former coaches, players, and parents of Fundraising U. We are here to help teams succeed!