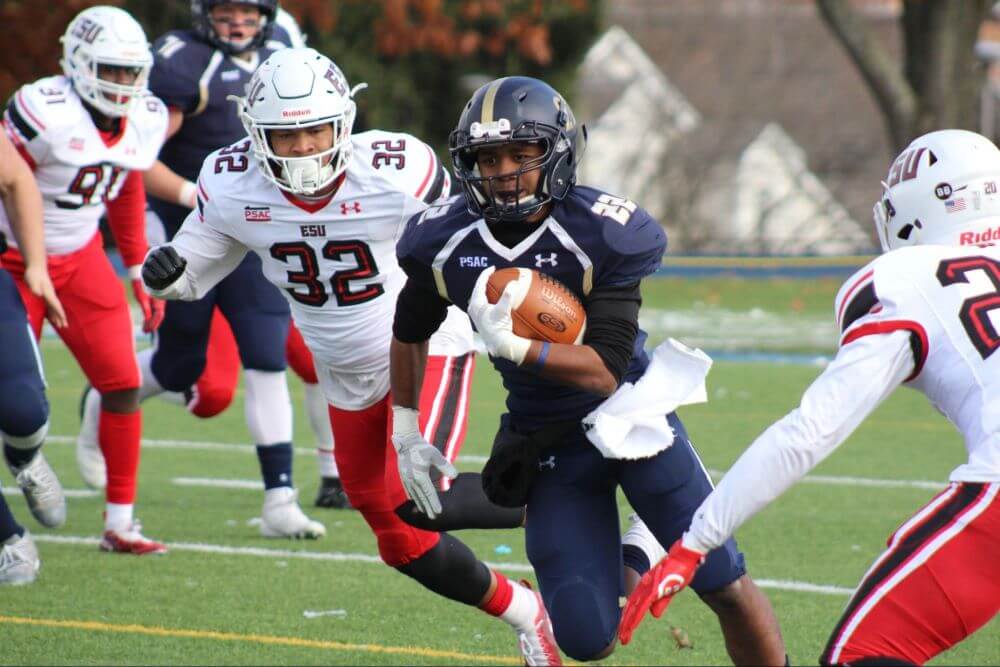 Now that we are in the midst of Summer, we all know football season is right around the corner. Summer workouts are in full swing so what is a better time to start thinking about fundraising for this football season than right now? At Fundraising University, we understand how important it is to make sure that players have all of the necessities to be great athletes on the football field. The issue that a lot of teams unfortunately face is the fact that they do not have enough money for new uniforms, pads, helmets, and other equipment needed for the gridiron. Fundraising U wants to help make sure that every football team has enough money to have all the necessities.
No athlete is left out with Fundraising U. The whole football team deserves the best equipment, facilities, and travel. We know how difficult it can be for coaches and athletic directors to scrape together enough money to support the depth of a football roster. That is why we are here to help develop a plan for your football fundraising process. Make sure your athletes tackle their fundraiser head-on and this fundraising season is a touchdown!
How it Works – Fundraising Made Easy
Step 1: The Meeting
The meeting is one of the most important parts of the fundraiser and it only takes 20 minutes. A Fundraising U representative will meet with coaches and lay out a plan of action for the high school fundraising process. We work with you to understand your goals for your program and what you are looking to accomplish with your fundraising money.
Step 2: Kickoff
This is where students get hyped up about the fundraising process. The kickoff event is roughly 25 minutes and will be handled by Fundraising University. We have this down so there's no need to worry. We get athletes pumped up and ready to sell! Setting up goals for the entire team right from the beginning so they can see what they are working towards.
Step 3: Sell Like Crazy
What's a fundraiser without fundraising? Fundraising U now has the digital technology to accept credit card payments with a single scan of their phone. The sports fundraising process has become extremely convenient. We track your student's sales as they compete to win lucrative prizes.
Step 4: Harness the Power of Mobile
Customers who make a purchase with Fundraising University automatically unlock thousands of additional discount opportunities on an online app. The deals will pop up without any hassle and will be there almost instantly!
Step 5: Blitz
The Blitz is what separates Fundraising University from other fundraising companies. In the midst of a fundraising slump, Fundraising U has a Blitz night where players go out and give it their all for one final push. The highest sellers will win the best prizes. This event helps motivate your students to reach the remainder of the goal. Keeping them playing strong through the end of the fundraising game.
Step 6: Prizes
Award athletes with prizes that are enticing. This can include physical prizes, cash prizes, or school/team perks. When athletes have an incentive to sell, they sell a lot more than with an average fundraiser. Plus, all of the money goes to their team!
Step 7: Delivery
The delivery of physical products can be quite a hassle. That's why Fundraising University has it covered. We help organize shipments and support the delivery process. We want to see everyone cross the finish line.
Step 8: Repeat
The first fundraiser is just the start of an amazing fundraising experience with Fundraising University. As the next season approaches, your athletes and fans will be prepared and so will you Fund U coach. Working with you to achieve higher than the previous year.
Fundraising U's Success with High School Sports Fundraising
Football season requires a lot of equipment for a lot of players. Luckily, working with Fundraising University allows for each player to have the necessary equipment. In past years, we have worked with numerous high schools to ensure that their players have all the necessities to be great players. One team, in general, is the Shawnee Mission West, baseball team. Since working with them, Fundraising University has helped their team raise over $150,000 towards their team's equipment, tournament fees, uniforms, travel costs, and anything else that they might need. In this past year alone, their campaign raised $13,000 for their team.
Why You Should Choose Fundraising University for Your Next Football Fundraiser
Fundraising University's staff is composed of former players, coaches, and parents of athletes who understand the highs and lows of athletic seasons. This staff is dedicated to making sure that each team can focus on the game plan rather than transportation, food, lodging, equipment, uniforms, etc.
When Fundraising University works with a team, the relationship continues to grow. We have continued to build relationships with programs for over 13 years. Fundraising University is dedicated to those who need our help. Year in and year out, the high school sports programs we work with can afford everything they need to build a great season.
Contact Us
If your organization is looking to improve its fundraising process, look no further than Fundraising U. Football, basketball, golf, tennis, or any other sport that needs financial assistance can contact us. We will be more than happy to see great young people be great young athletes!