Fundraising is the backbone of every football team in the United States; no matter the team's community, they will always need extra support from their neighbors. To ensure the safety of the student-athletes, it's essential for football teams to raise money for helmets, shoulder, thigh, hip, and knee pads that all protect the players from serious injury. Funding is also needed to help prepare each student-athlete for their season with proper weights and team meals helping them to train and perform at their very best.
This was the case for the Mountain Vista High School Football Program as well. They were looking to raise the necessary funds needed to purchase new weight lifting systems for their gym as well as the necessary funds needed for new uniforms, pads, meals, and transportation – all the basics needed for any high school sports program. They worked with Fundraising U on their football fundraiser to get the funds they needed.
Problem: In Need of Funding for Weight System & General Supplies
If you have ever been a part of a team, you have probably been told that the season doesn't start at your first game but actually in the months of preparation in the off-season. Obtaining money for funding is essential for the footballs, helmets, shoulder, thigh, hip pads, knee pads, and the proper weights needed to prime the players for the season. By having adequate training equipment, the student-athletes will be able to stay healthy and build the appropriate muscle groups to last through the season. Most people realize that football pads and helmets provide athletes with concussions and injuries. However, most people do not realize that building muscles like those in your neck and legs give their bodies the proper support to keep their body stable and helps protect them against injuries as well.
That is why Mountain Vista High School's primary purpose for their fundraiser was to raise enough for those necessities. To protect their student-athletes and prepare them for their upcoming football season. With 162 young men on in the football program, it was important that this fundraiser raise all the necessary funds they needed in order to provide a successful and safe season for every athlete on the team.
Setting the Standard for the Football Team
Success doesn't happen overnight, for a football team or for a fundraiser, Fundraising U Coach Jake Morse, and Mountain Vista Football Staff led by Garret Looney all dedicated time and effort to prepare their team for fundraising success. They started with the hard work that built the ground for a successful campaign.
STEP 1: LAUNCH MEETING
Our partnership with Mountain Vista Football started with an initial meeting back in February of 2021 to set the preliminary plan of action, followed by multiple meetings to meetings to solidify the plan and iron out the exact process, and set expectations.
STEP 2: KICKOFF WITH A KICK
By organizing a meeting with your team to inspire them to make an impact on their community and build relationships. Going out and selling cards to those in their neighborhood will also create a more extensive fan base than before.
The expectation that each player MUST sell 25 cards helped to motivate the players and gave them a clear direction towards success. Fundraising U discussed the game plan for how to execute on sales. The coach's clear and firm stance on goals and Fundraising U's strategy behind sales was crucial for the student's success in the fundraiser.
STEP 3: DIVIDE INTO TEAMS
From there the team was split into 12 equal teams led by senior leaders building additional teamwork, a sense of competition, and team responsibility to reach their goals. This helps them develop the skills they learn in the field even further.
STEP 4: THE BLITZ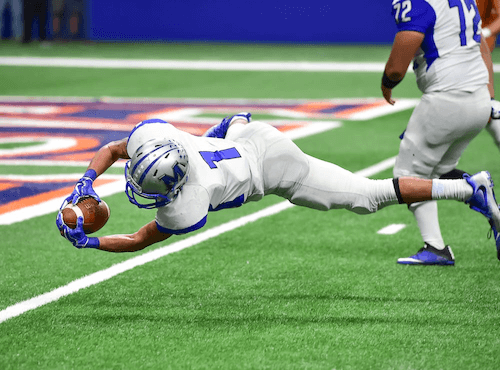 The blitz is one final push that rallies the kids together to inspire them to sell more cards. This is a final meeting had to really make a final effort to sell the last cards.
If any athlete had not sold all their cards by August 14th, his whole team was required to go out and finish selling to reach their goal. For Mountain Vista Football only 8 guys out of the 162 had not yet sold all 25 cards, but within 45 minutes even they had reached the 25 card goal and completed the blitz. The Blitz alone raised an additional $7,000 for the fundraiser.
STEP 5: PRIZES & CELEBRATION
To celebrate a successful fundraiser and the hard work of the athletes we awarded prizes –
Awards for the Top Seller
Awards for the Top Selling Team
Money Grab for those teams that completed selling their 25 cards each before the Biltz.
Solution: Over $100,000 Raised for Mountain Vista High School Football
After the fundraiser was all said and done the Mountain Vista Football Program walked away with $100,000 raised for their high school football program, allowing them to purchase all the necessary equipment for their team as well as a new squat rack.
With Fundraising Universities proven process and the coaching leadership's unwavering and firm standard of excellence for his team, Mountain Vista High School Football walked into their season with a successful fundraiser under their belts, $100,000 in their pockets, and a focus dedicated to their season, with no worries about raising additional funds for their program. But it doesn't end there – the high school football program has signed up for two additional fundraisers in 2022 to continue furthering their success.
Mountain Vista Program Details
Group // Team: Mountain Vista Football
Organization // School: Mountain Vista High School
Location: Highlands Ranch, CO
Age of Team: High School (15-18 Years Old)
# of People on the Team: 162
Coaches: Garrett Looney, Head Coach. 10 other Assistants
Fund U Coach: Jake Morse
Funds Raised: $103,770
Interested in what Fundraising University can do for your high school program? Have a similar program to Mountain Vista football and are looking for help? We work with teams and programs across all sports and clubs and would love to help you meet your fundraising goals.
Contact Fundraising U today to find a Fund U coach near you!