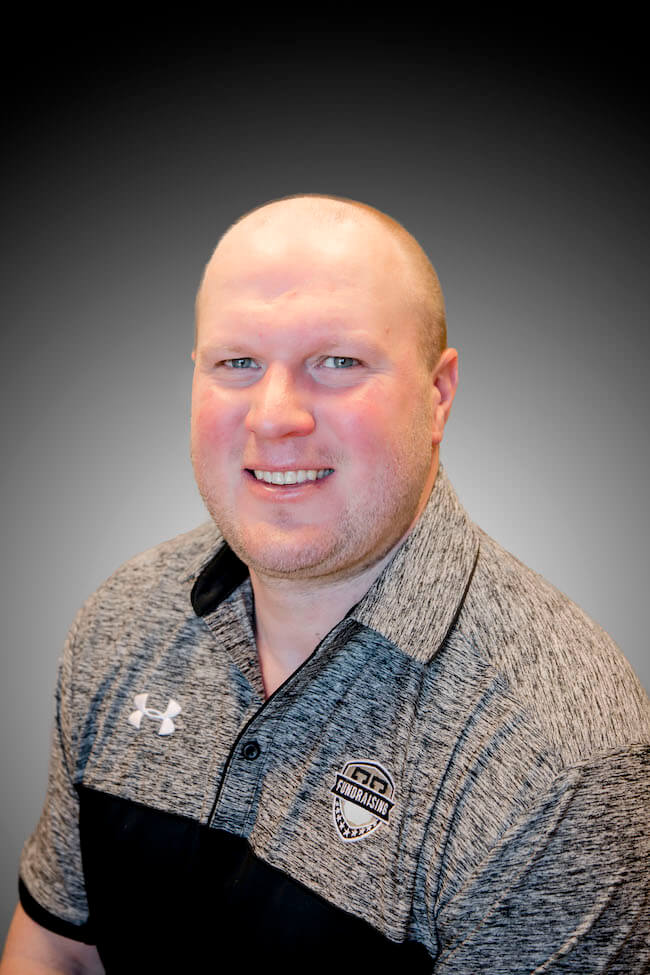 Tony Rice
Denver Metro
1.800.217.1962
trice@fundraisingu.net
Tony Rice is the Denver Metro area representative for Fundraising University.
Tony graduated from Henderson, Nebraska in 2002, where he competed in football, basketball, track, and powerlifting.  He attended Briar Cliff University, where he was the starting tight end for three seasons.  After college, he was a personal trainer in Parker, Colorado for two years.  Following the personal training, he was the varsity wide receivers coach and head freshmen coach at Clay Center, Kansas for two seasons.  At Clay Center, he worked directly with Fundraising University to get a first hand experience of what fundraising looks like from a coach's perspective, and now he gets to share that information with other coaches who are looking for fundraising.
After coaching, Tony moved to San Diego, where he spent the next eight years in real estate, primarily providing the loans for new home purchases and refinances during a boom.  Tony closed over 500 loans during a time when mortgage financing was at an all-time high, as rates hit the lowest levels in the history of mortgage rates.  For over two years, he was the sales manager working with over 40 loan officers.  He was also building relationships with local real estate agents and helped to integrate new technology and practices at a company wide level.  When he started with the company in 2010, there were only four employees, and he was instrumental in the advancement of that company having over 100 employees at the time of his departure.
For the last two years, he has also been working with Canyon Creek Royalty in Denver, Colorado as a mineral acquisition specialist.  This is a newer company with some of the best minds in the oil and gas industry.  Their primary objective is to purchase individual's mineral rights in the states of Oklahoma and Texas.
Tony's father, Todd Rice, has been a head football coach in Kansas and Nebraska for the last 28 years.  With this being Todd's first year at North Platte High School in Nebraska, he was able to triple the amount of money raised for his team with the help of Fundraising University.
For the last eight years, Tony has really wanted to get back into coaching and be able to work with coaches and athletes.  Working at Fundraising University gives him that opportunity, as he will also be looking to get back into coaching, even if it's just as a volunteer