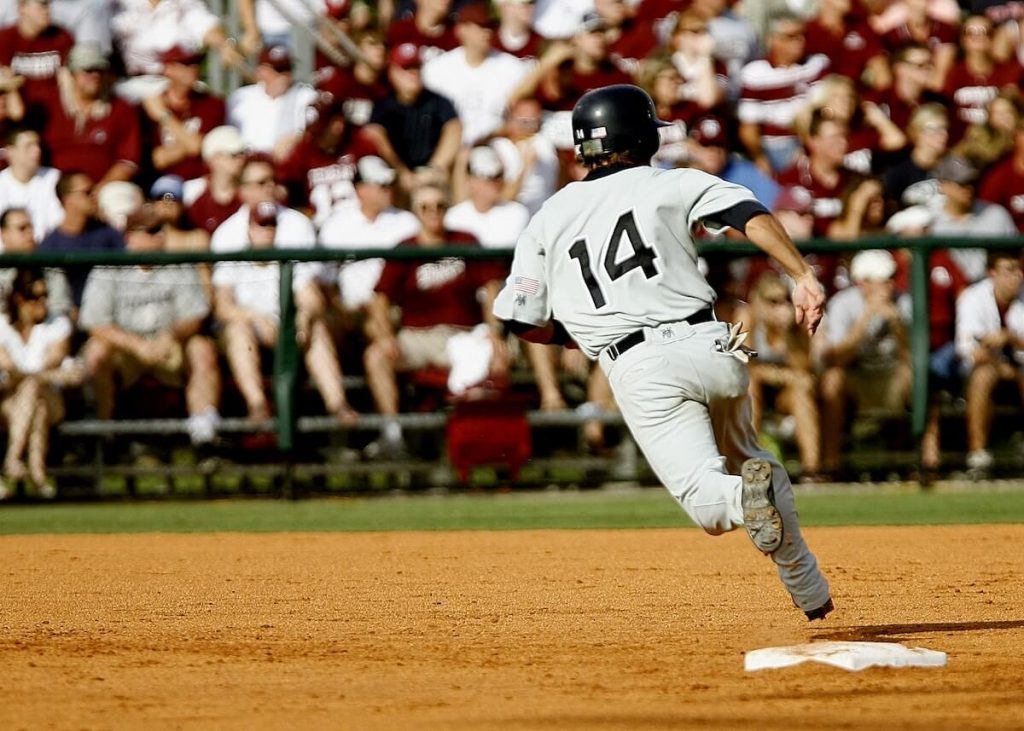 As baseball season approaches, coaches around the country are starting to think about what their spring baseball fundraiser should look like. What can you start doing now that will start your team off on the right foot? The first step is not pre-season training, yoga, or pasta dinners – it's your baseball fundraiser. High school fundraisers are pivotal for the success of any baseball team. Whether that be for new uniforms, new equipment, or stadium updates, Fundraising University has the right fundraiser to get you the most money in the shortest amount of time. At Fundraising University, fundraisers are quick, easy, and profitable for your team!
Our process couldn't be any easier. With Fundraising University, fundraising is made fun, competitive, and easy for both players and coaches. It all starts with a brief meeting with coaches to determine the best baseball fundraiser for your team, then players draft teams who will compete against each other in the fundraiser for prizes. Your team will work with a Fundraising University coach who will help guide players and coaches through every step of your fundraiser. The process is effective, quick, and easy. Fundraising University introduces a new way to fundraise for your team. It keeps the players interested as well as making the fundraising process competitive and fun.
From a Coaches Perspective: Todd Reed
According to coach Todd Reed of the Shawnee Mission West baseball team,
"You know the best part of the fundraising experience with Fundraising University, in my opinion, is the actual Blitz night itself. Here at Shawnee Mission West we send every one of our players out in the Varsity uniform and for three hours they go out to the community to represent our program and sell the card. And then they come back at the end. And to see their faces, to see that they reached their goal, and [you know] earn their prizes or get the prizes they earned is just really neat as a head coach to see [you know] that the hard work is paid off. You know our fundraiser went exceptionally well [you know] selling the Fundraising U ticket over the last ten years. On average we sell anywhere, [you know] make anywhere between thirteen to sixteen thousand dollars. Which really affords us the opportunity to put my players in the best equipment out there and the best uniforms. And it really transfers over to [you know] what we accomplish on the field. To sell [you know] the big thing for us, would be the checkpoints. Making sure that they hit a certain number on that first checkpoint or their second checkpoint. Which really puts us in [you know] the position to be successful where we've already sold almost nine-hundred cards before we even go out on our Blitz. This year some of the things we're going to do with our funding is we've already purchased twenty-five pairs of home and away pants for varsity guys. We're adding additional banners to our outfield. And just the normal stuff that [you know] a lot of programs aren't able to provide their players with. We're able to go out and buy those pieces of equipment and things that help our kids run a top-notch program. They do a tremendous job going out [and] reaching those merchants, making sure we put the best product in our players hands to sell to our community in the Spring so we can be successful."
Shawnee Mission West's Fundraising Home Run
The Shawnee Mission West baseball team loves their fundraising competition. Head coach Todd Reed says "To see their [the players] faces and to see that they have reached their goal. To get the prizes that they have earned, is really neat as a head coach to see that the hardwork has paid off for them." Since working with Fundraising University, the Shawnee Mission West baseball team has brought in anywhere from $13,000-$16,000 in one year for their baseball program, just through their high school fundraiser. The team has been placed in the best equipment and uniforms. According to Coach Reed "It transfers over to what we accomplished on the field." In one fundraising year, the team purchased 25 new pairs of home and away pants, additional banners to the outfield, and necessary equipment to run a top-notch program.
Fundraising U is Right for You
If you're looking for a way for your team to raise money, look no further than Fundraising University. It is competitive, fun, and quick. Fundraising University is here to help any team, any time. Baseball season is coming up fast! Your players need balls, bats, uniforms, mits, and other equipment to perform their best. In order for a team to play their best, they need to look their best. Let Fundraising University help you handle your teams' financial burdens while building team chemistry and a competitive edge amongst your players. If your baseball team needs help paying for tournament fees, equipment, and travel costs; look no further than Fundraising University. At Fundraising University, players play, coaches coach, and the team has the necessities to be great!